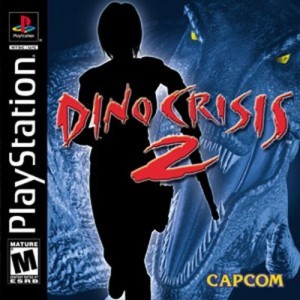 Dino Crisis 2 is an action-adventure video game for the PlayStation and Microsoft Windows developed by Capcom in 2000. It is a sequel to the 1999 survival horror game Dino Crisis and was followed by Dino Crisis 3 in 2003.
Initial release date: September 13, 2000
Genres: Action-adventure game
Designers: Shinji Mikami, Shu Takumi, Hiroyuki Kobayashi
Developers: Capcom, Capcom Production Studio 4
Platforms: PlayStation, PlayStation 3, PlayStation Portable, Microsoft Windows, Nintendo 64
Publishers: Capcom, Virgin Interactive
One year has passed since Dr. Kirk was captured by Regina's S.O.R.T. team. Since his research on 3rd energy was in the government's custody, another accident occurred. Not using any pre-cautions, it transported a research facility, military facility, and a civilian town to another time. In a desperate emergency, they created a 3rd energy time machine and sent a US Army Special Forces TRAT team. The leader is Lieutenant Dylan Morton. Since Regina was the only one who fought with dinosaurs, she had to go too. The mission objectives were: 1. Retrieve a data disk on 3rd energy 2. Rescue all civilians However, the mission went wrong. The whole TRAT team got killed by raptors. The only survivors are Dylan, Regina, and David. Their goal is to try to stay on mission. During their survival, there are human attackers. What does it have to do with Dylan's destiny? Will Regina and Dylan come back to their own time?